Family Portrait Photography
Watch our film (sound up!)
Nousha photography is a professional photography studio in Clapham, London. Family portrait photography is a fantastic way to capture a snapshot of your family at whatever stage in life you're at. Whether you have a toddler, twin eight-year-olds or a group of teenagers, family photography is a fantastic way to remember not just what your beautiful children looked like at a certain stage, but what they were like.
We capture more than just surface appearance in our portrait photography. Our work always showcases personality and the rich depth of emotion that every child - no matter how old - has behind their expression.
What is Family Portrait Photography?
Family portrait photography is a form of photography that captures the emotion, personality and character of each individual in your family. A portrait is a photograph in which the subject (the focus of the photo) is a person, or in the case of family portraits, people.
It is intended to capture something of who an individual is or how a group interacts together. Sometimes this means simply how they look, but you can expect higher quality portrait photography to showcase more than this. It will capture a particular thread in someone's personality, an emotion or moment.
Our signature portraits aim to capture the way a child's personality is infinitely layered to create the wonderful little human they are. While a lot of portraits will capture a momentary emotion, whichever is presenting itself at that time, we strip this back in our signature portraits. You're left with a study of your child's most natural and unguarded expression.
It's in these images that you notice new things about your child. It could be a family resemblance you've never spotted before or something in their gaze that makes you pause and wonder afresh at how you could have brought such a beautiful little person into the world!
Why Nousha?
Why come to Nousha for your family photography? Because we produce extraordinary photographs that your cameraphone can't. We take pictures of little people that show how beautiful they are. How magical these fleeting moments will seem when you look back on them. They are to be treasured.
Sometimes it's hard to pause and appreciate what amazing creatures they are, these children of yours. So let us remind you.
Take the time to sit quietly, watch and appreciate just how special these little people are.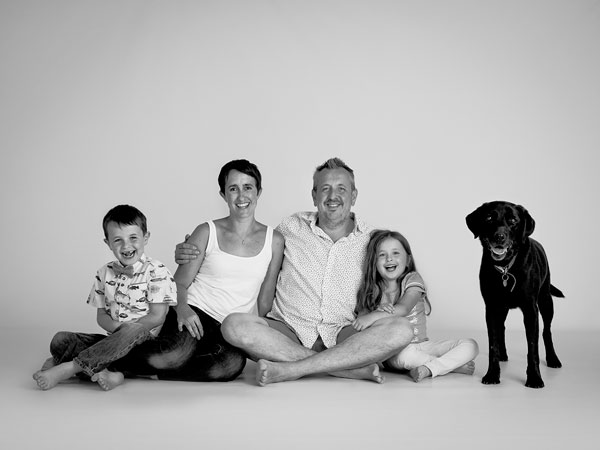 Can We Bring the Family Pets?

If you have a family pet (like our cat, Nousha!), they are more than welcome to come along for the shoot. We've had many dogs in the studio, as well as a few more unusual varieties of animal. We know that pets are very much part of the family and getting them involved can be a lot of fun.

Who said you should never work with animals or children?! Nousha Photography certainly prove them wrong (and have a lot of fun along the way!).
Does it Include the Whole Family?
We love to get the whole family in our family portraits. Well, immediate family at least; we couldn't fit all your cousins, aunts and grandparents in our studio! Our family photography gets both parents and children involved, resulting in photos that you'll absolutely love.
It's really important that you as the parent take part in the shoot as it helps to make your children feel secure and comfortable in front of the camera themselves. If you don't like the way you look, then you don't have to choose those pictures at the end!
London
Nousha Photography offer family portraits to people throughout London, and anyone happy to travel in to visit us! We are based in Clapham, South London and are easily accessible by rail or underground.
Family Portrait Photography
If you're in London, or nearby, and want high-quality family portrait photography, then get in touch with Nousha today. We would love to hear from you!