Family Portrait Prices
Our family portrait prices start at just £250. This covers the photoshoot session: an hour in our studio with your whole family in which we create some absolutely stunning portrait photography. We whittle these down to about 100 of the very best. These include a wide range of different types of shots such as whole family portraits, photographs of all your children together and individual portraits of each of your children.
This price covers the photoshoot session. We then have a range of different packages available that include prints of different sizes, as well as options for digital copies.
Register your details for a full list of our prices.
Package Prices
Our family portrait prices are available online, but these are exclusive to online bookings! Complete a form on our 'prices and packages' page to view the complete list of family portrait prices. Each package includes a different number of framed and printed images, as well as digital copies.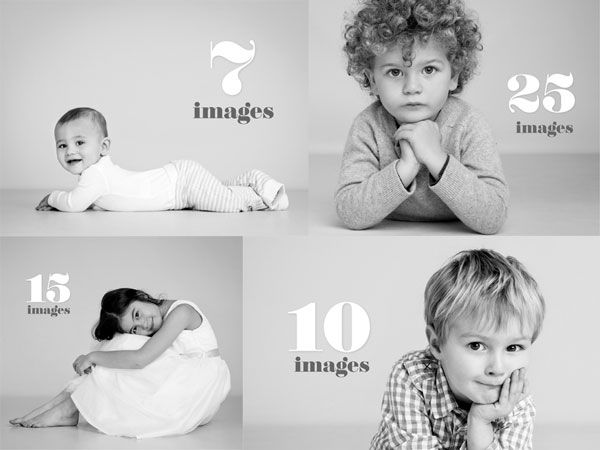 Register above to gain access to our preferential packages and prices
Quality
Family portrait prices can vary a lot according to the quality of the photography work being completed. It's always worth investing in a high-quality photographer for your family portrait. You'll be getting photographs that you'll want to display and cherish for decades so it's vital you get it right. Not only does a professional family portrait photographer guarantee the photography itself is beautiful, but they also ensure your images won't look dated a few years down the line or that the print will lose quality or clarity.
Nousha Photography is one of the very best family portrait photography studios in London. We shoot and print your photographs to ensure they are of an unbeatable standard. Our framed prints can be hung for decades and look at good as new -- even when your children aren't children any more!
Online Prices
Nousha Photography has an exclusive price list that's only available to our online customers! These offer you the very best deals on family portraits and family photography. They're only available to people who book and pay online. If you want the best family portrait prices, be sure to make your booking through our website rather than paying on the day.
If you have any questions, feel free to get in touch with us by phone or email. If you're local to us, just drop by and we'd love to chat through any questions you have. We're based in Clapham, London, just a five-minute walk from Clapham Common tube station.


What is a Family Portrait?
A family portrait captures your family's personality, dynamic and relationships. While portraits always show how the subject looks, a good family portrait should be so much more than that.
A family portrait from Nousha Photography will show how your children looked at a certain age, helping you to remember how beautiful they were at that time and how that has fed into the way they look today. However, they also show your child's personality.
We capture the emotion and thoughts that lie behind your child's expression. We don't just let you remember what they looked like, but what they were like.
If you want stunning family portraits, then choose Nousha Photography. You can get a photoshoot for just £150 with a range of packages then available for prints and copies. To see the list of our packages, go to our 'prices and packages' page and complete a form to gain access to our exclusive online prices!