Watch our film (sound up!)
7:30 duration
The Family Photographer for London
What are the benefits of using a professional family portrait studio?
Nousha will create stunning images for you to treasure for a lifetime.

We're in our tenth year, we know our stuff!

We specialise in child portraiture and nothing else and we only work in our studio.

Nousha is a professional company, we offer full customer support before and after you have purchased from us.

We are confident that you will love what we will show you we have a money back guarantee on our photo session fee.

We will capture your family's unique character, capturing your children in a moment of joy, beauty or cheekiness that you'll be proud to display for years to come.

This is timeless family photography for little people that are always growing and changing.
Watch and listen to what our customers have to say about Nousha
Child Portrait Photography
We have years of experience in producing beautiful classic portraits of children and their families to be treasured forever.
No matter how many children you have, we would love to get to know them and capture their personalities.
What are the benefits of coming to Nousha?
Why come to Nousha for your family photography? Because we produce extraordinary photographs that your cameraphone can't.
We take pictures of little people that show how beautiful they are.
How magical these fleeting moments will seem when you look back on them. They are to be treasured.
Sometimes it's hard to pause and appreciate what amazing creatures they are, these children of yours. So let us remind you.
Take the time to sit quietly, watch and appreciate just how special these little people are.
Why Family Photography?
As a father of three feisty and stunning young women, all now grown up, I can tell you from a very personal perspective how quickly the young years pass. I have thousands upon thousands of happy snaps of them taken throughout their young lives, and they are pretty good, but they are nothing compared to the pictures we produce at Nousha Photography. Our speciality is to show you a side of your children you have never seen before.
Often our photographs are a window to their future years; that is an extraordinary experience.
What if you don't want pictures of your children on your wall or anywhere else in the home for that matter. You love the little blighters "but seeing them every day is quite enough, thank you very much, without having them plastered on my walls as well".
You may or may not want big beautiful black & white prints in your hallway or on the landing or in the kitchen diner, that's okay, that is fine because we sell photographs, we also happen to print and frame our pictures, as we would want them printed, using the most excellent materials.
But we mainly create and sell photographs of your children, so if you prefer to have your pictures on your phone or your computer or in an album, please do so, don't let me badger you into buying framed prints, they are very charming and of the very highest quality though!
But please don't ignore this time, the clock is ticking, and your children are changing every day. Whether you come to us or go to another London family photographer, make sure this time is recorded somehow. You don't want to miss it and lose the opportunity to capture it forever. Lionel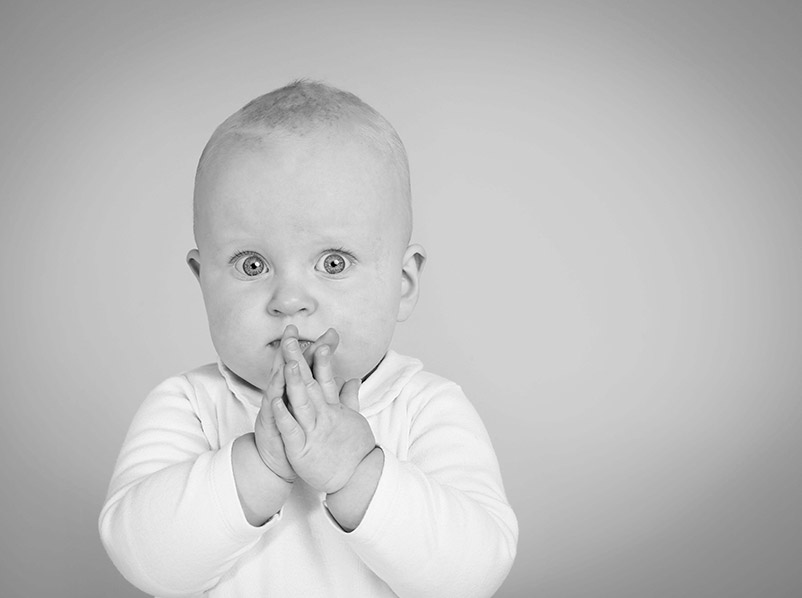 The photo studio session lasts no more than an hour to be friendly to your little ones.
Our photographs are in black and white. They are stylish, elegant and only get better with time
Babies should be able to sit up, we photograph your children from 5 months to any age. Because, after all, they will always be your children
Four legged members of the family are welcome… Woof, meow, squeak, we've even had a 'hiss'!
For fantastic family photography that will last long after your children have grown up, choose Nousha. We have a team of friendly and extremely talented family photographers that would love to serve you with their skills. Our child portraits have been featured in numerous magazines and publications, as well as many living rooms! Get in touch with us today.
A little taste of our Nousha Photography blog…